Pianist William Hume performed a free community concert, Sunday, September 15, 2013 at Rubendall Recital Hall on the campus of Dickinson College in Carlisle Pennsylvania.  The concert was sponsored by the Carlisle Musical Arts Club who presents a Special Artist Concert Program for the enjoyment of the Carlisle community annually every September.
This year's program featured 17 year-old William Hume who recently returned to Carlisle Pennsylvania after living in Yorktown, Virginia for the past two years.  Although William is already an accomplished performer and concerto soloist, this was his first major solo recital.  He was grateful for the chance to perform, exclaiming,
"This was a great opportunity to share some wonderful music with a community who loves and appreciates all genres of classical music.  I was able to perform my entire repertoire in preparation for conservatory auditions, and I think the audience enjoyed it as much as I did.  It's nice to have such a supportive community and organizations like the Carlisle Musical Arts Club that provide opportunities for growing musicians like me."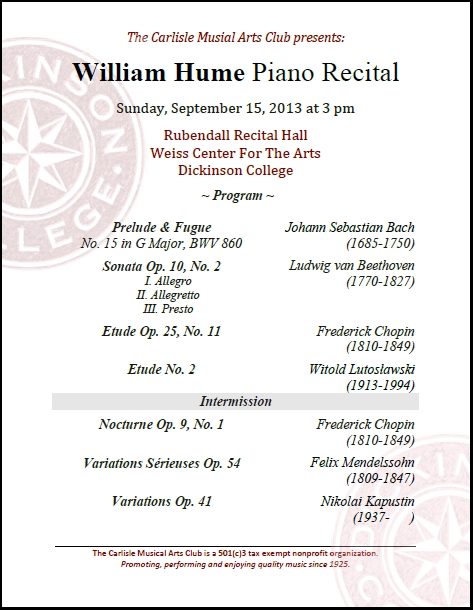 William finished the concert by thanking everyone for attending and recognizing his former teacher, Mrs. Carol Turner Compton who traveled from Virginia and his current teacher, Professor Jennifer Blyth of Dickinson College.  He then played an encore piece – the Rachmaninoff Etude Tableau Op. 33 No. 4, for the appreciative audience.