This week I had an incredible experience in New York City.   On Friday evening, October 25, 2013, I had the great privilege of performing in a Masterclass with Maestro Barry Snyder, Van Cliburn Competition winner and esteemed professor at the Eastman School of Music.  It was even more special because it occurred in the world famous Klavierhaus.  Each performer had an opportunity to warm-up and choose one of two beautiful pianos in the hall to perform on.  I chose Gina Bachauer's fully restored 1907 Hamburg Steinway Model D concert piano!  It is no doubt one of the finest pianos I have had the pleasure of performing on. *
The highlight of the experience, however, was meeting and working with Professor Barry Snyder.  His Masterclass was such an eye and ear opening experience.  Professor Snyder discussed ways to produce a plethora of new colors and tones through proper use of my wrist and arm weight and form.  Also, we discussed how the ends of notes are just as important as the beginnings.  Professor Snyder emphasized the way that a note can continue to sing and project after the hammer has struck the string.  It is important to be aware of these ideas to keep the notes alive and meaningful, and consider their roles, relative to the entire phrase.  I especially enjoyed Prof. Snyder's frequent demonstrations on the piano, which were extremely valuable and immediately immersed the audience in the mood and depth of the ideas, even in the most delicate passages.  He shared new artistic approaches and his playing immediately captivated the audience in a seemingly effortless yet extraordinary way.
Professor Snyder directed the class with comfort and enthusiasm.  His passionate and warm approach to helping each performer achieve more musical meaning was quite inspiring and effective.   By far, this was one of the most enjoyable and beneficial Masterclasses I have had the fortune of attending and performing in.  I'm confident that everyone who attended – students and teachers alike – grew from the experience.
I was also delighted to see Professor Seymour Bernstein, an esteemed pianist, teacher, and author, who I first met last summer at the Washington International Piano Festival.  Furthermore, I was grateful for the support of my teacher, Professor Jennifer Blyth, who was able to attend the class.
Additionally, I would like to thank Mr. Alden Gatt, professional pianist and assistant to Prof. Snyder, for organizing and managing the event with true expertise!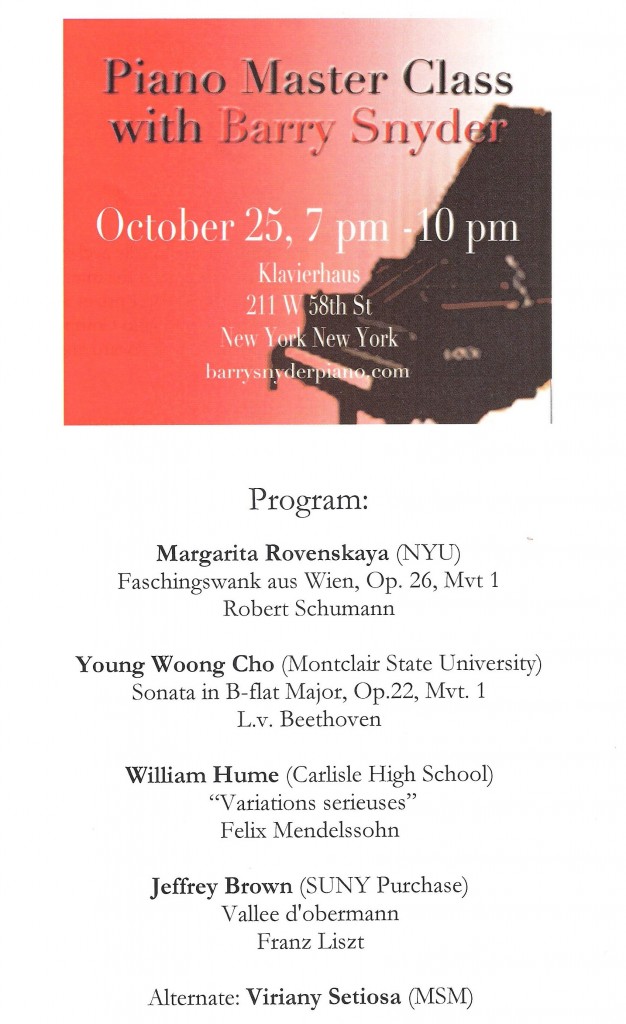 * Gina Bachauer (Greek: Τζίνα Μπαχάουερ; May 21, 1913, Athens – August 22, 1976, Athens), was a Greek classical pianist who toured extensively in the United States and Europe.  Before she died in 1976, she gave hundreds of concerts – including 630 for the Allied troops in the Middle East during World War II.  The Gina Bachauer International Piano Competition was established in 1976 in her honor. (Wikipedia)