Group Presentations and Performances
Over the past three years, I have developed a tailorable presentation and recital format to introduce new audiences to classical music.  I like to use solo piano selections and my own arrangements of movie scores while incorporating speaking, use of props, and Q&A to promote student interest and engagement.  I am happy to work with you to craft a presentation to address specific themes or develop a presentation to complement a larger program.
More recently, I presented educational programs and recitals in Colorado through the 2016 Grand County Concert Series as well as at the 2017 Elizabethtown College Summer Music Camp in Pennsylvania.  I have worked with local elementary and middle school choirs and orchestras, talked to and performed for young aspiring musicians, and presented programs like the YWCA Young Wonders Summer Camp where we explored different genres of music, examined how music invokes colors and imagery, and talked about the keyboard's evolution and construction.
This past fall I presented a Sunday school program in Rochester for twenty elementary school aged students.  During the session, we reviewed a passage from the Bible and the children drew pictures about their own lives and interests. Then we tapped rhythms and played melodies on the keyboard to create short songs inspired by their drawings.  We also brainstormed stories that went along with each picture so everyone could present his/her own ideas to the group.  I wanted to help the students experience the interconnection of art forms, feel empowered to express themselves as well as feel enriched through creativity and collaboration.  With interactive games to develop pulse and tempo as well as use of imagery and directed eye contact, I wanted to encourage the students' focus and passion to have fun while simultaneously learning.
I sincerely believe that if students can develop a healthy relationship with music it can enrich their lives and help them experience personal growth and a greater sense of freedom.  Let me help your students experience the joy that I have for classical music!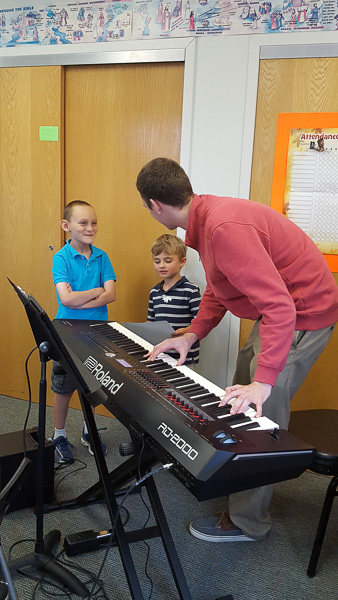 Individual Piano Lessons
I am always eager to work with individual students interested in learning more and ready to take it to the next level in forging a closer relationship with music.  I am happy to work with beginners, intermediate students who are ready to explore more advanced ideas and techniques, or advanced students who may just need some coaching.  While I have only worked closely with a few individual students, I am trying to do more and most recently worked with a young piano student through an internship with the Eastman Community Music School in coordination with my Fall 2017 pedagogy course.
During lessons, I try to focus on students' needs and help them understand music in ways that make it fun while also exploring concepts like structure, style, patterns, rhythm, theory and perhaps some history.  We will talk about setting high but realistic goals, how to practice more effectively, and ways to approach music that promotes interest and better learning.  In short, I want to help students gain the tools needed to grow in music and in life.
One of my favorite teachers taught me how to really love the music and I will always strive to honor her memory by doing the same.
So…  

If you are interested in working with me or would like me to support a specific program or make a presentation, please contact me.