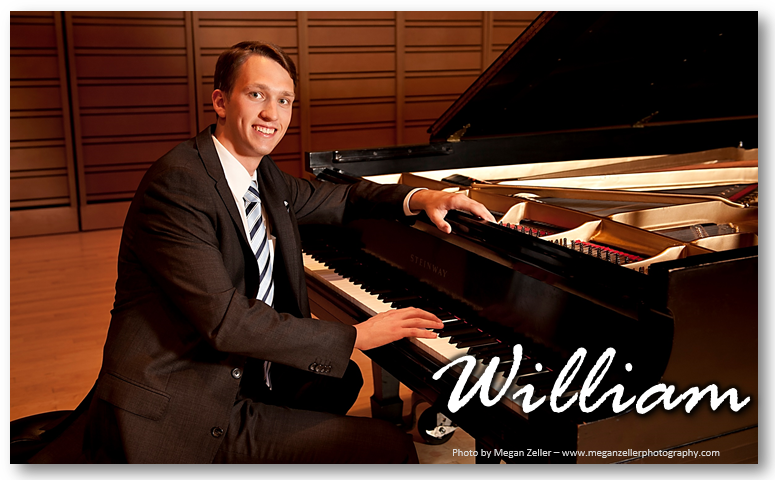 I strive to inspire individuals through performance and collaboration
and enrich the world's appreciation for all genres of music.
I am currently attending the Eastman School of Music where I am pursuing a
Bachelor of Music Degree in Piano Performance.
"I will take fate by the throat; it will never bend me completely to its will."
-Ludwig van Beethoven
---
Highlights:
William receives Eastman School of Music Grant to intern
at the Harrisburg Symphony Orchestra during summer 2017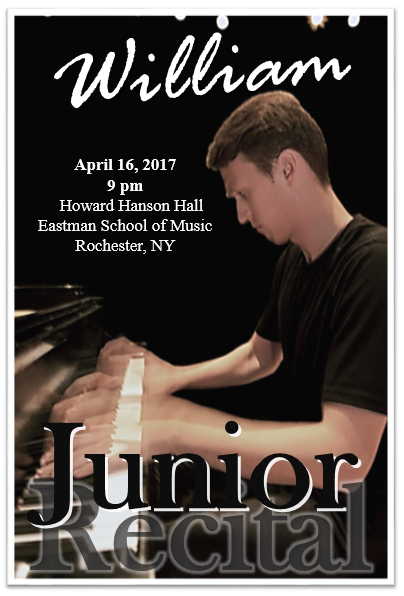 Summer 2016 – Solo Recital 
University of Cambridge, United Kingdom
Reviews:

The American Prize Winner 2014
1st place – Piano Performance Solo (High School Division)
Among judges' comments: "…exquisite dialogue and voicing between hands…"
2nd place – Piano Performance Concerto (Professional Division) 
Among judges' comments: "…beautiful tone and projected melody…"
Featured Soloist – Beethoven Choral Fantasy – November 10, 2013
with the Williamsburg Choral Guild, Williamsburg, Virginia
"The program's highlight was the Choral Fantasy, with guest pianist William Hume. Formerly of Yorktown, the 17-year-old is a talented youth whose keyboard control was impressive. The Fantasy offered him abundant opportunities to showcase his notable skills, each opportunity regaling us with his obvious ability and future potential."          – John Shulson, Virginia Gazette
 CLICK HERE to see the Choral Fantasy Performance on my YouTube site.

Solo Recital – September 15, 2013
Rubendall Recital Hall, Dickinson College, Carlisle, Pennsylvania
"William presented a brilliant recital to kick off the 2013-2014 season for the Carlisle Musical Arts Club.  His performance dazzled guests . . .  It was an exciting, memorable concert!"
– Barbara Guillaume, Carlisle Musical Arts Club
American Protégé Winners Recital – February 10, 2013
Carnegie Weill Recital Hall, NYC, New York
"William Hume delivered Kapustin's very difficult Concert Etude Op. 40, No. 1, with the fluency and ease of a veteran performer." – Rorianne Schrade, New York Concert Review