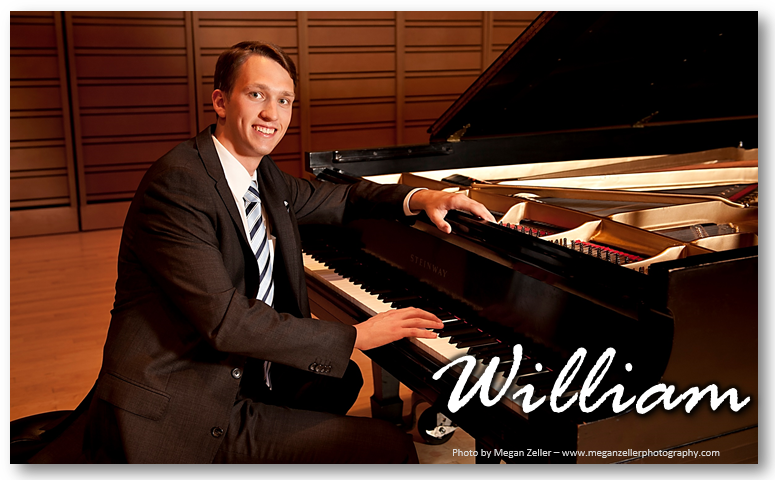 I strive to inspire individuals through performance and collaboration
and enrich the world's appreciation for all genres of music.
I am currently attending the Eastman School of Music where I am pursuing a
Bachelor of Music Degree in Piano Performance.
"I will take fate by the throat; it will never bend me completely to its will."
-Ludwig van Beethoven
---
HIGHLIGHTS
The American Prize 2017
William selected as a  Semi-finalist
in the College University Piano Solo Performance category!

William receives Eastman School of Music Grant to intern
at the Harrisburg Symphony Orchestra during summer 2017 and the Rochester Philharmonic Orchestra in fall 2017.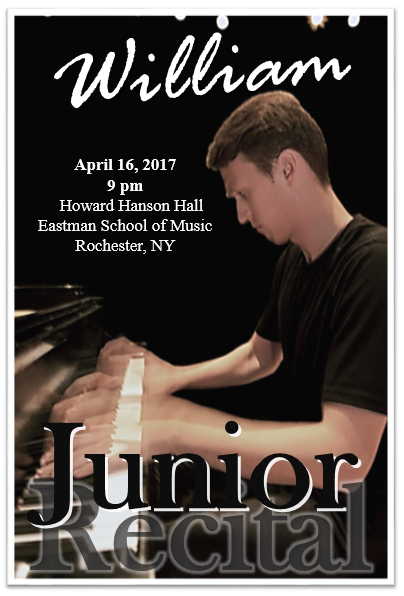 Solo Recital, University of Cambridge, United Kingdom (2016)
REVIEWS
Guest Performer, Central Pennsylvania Youth Ballet, Harrisburg, PA (2017)
"Thank you, William! You brought to June Series exactly what we hoped you would bring … a welcoming, inviting setting to an evening at the ballet." – Bonnie Schulte, Director

Collaborative Recital, Harmonia Music Association, Lebanon, PA (2017)
"What a delight it is to know that classical music is in good hands (pun intended) with the next generation.  The musicality, technique, and articulation from both of you was exceptional.  But then, that's why you are students at Eastman.  Congratulations on a fine evening, and a huge THANK YOU for the experience." – Patricia Walter, Recording Secretary
The American Prize Winner (2014)
1st place – Piano Performance Solo (High School Division)
"…exquisite dialogue and voicing between hands…"
2nd place – Piano Performance Concerto (Professional Division)
"…beautiful tone and projected melody…"
Soloist, Beethoven Choral Fantasy, Williamsburg, VA (2013)
"The program's highlight was the Choral Fantasy, with guest pianist William Hume. Formerly of Yorktown, the 17-year-old is a talented youth whose keyboard control was impressive. The Fantasy offered him abundant opportunities to showcase his notable skills, each opportunity regaling us with his obvious ability and future potential." – John Shulson, Virginia Gazette
Solo Recital, Rubendall Recital Hall, Dickinson College, Carlisle, PA (2013)
"William presented a brilliant recital to kick off the 2013-2014 season for the Carlisle Musical Arts Club.  His performance dazzled guests.  It was an exciting, memorable concert!" – Barbara Guillaume, Carlisle Musical Arts Club
American Protégé Winners Recital, Carnegie Weill Recital Hall, New York, NY (2013)
"William Hume delivered Kapustin's very difficult Concert Etude Op. 40, No. 1, with the fluency and ease of a veteran performer." – Rorianne Schrade, New York Concert Review